Coffee, cake and vintage galore!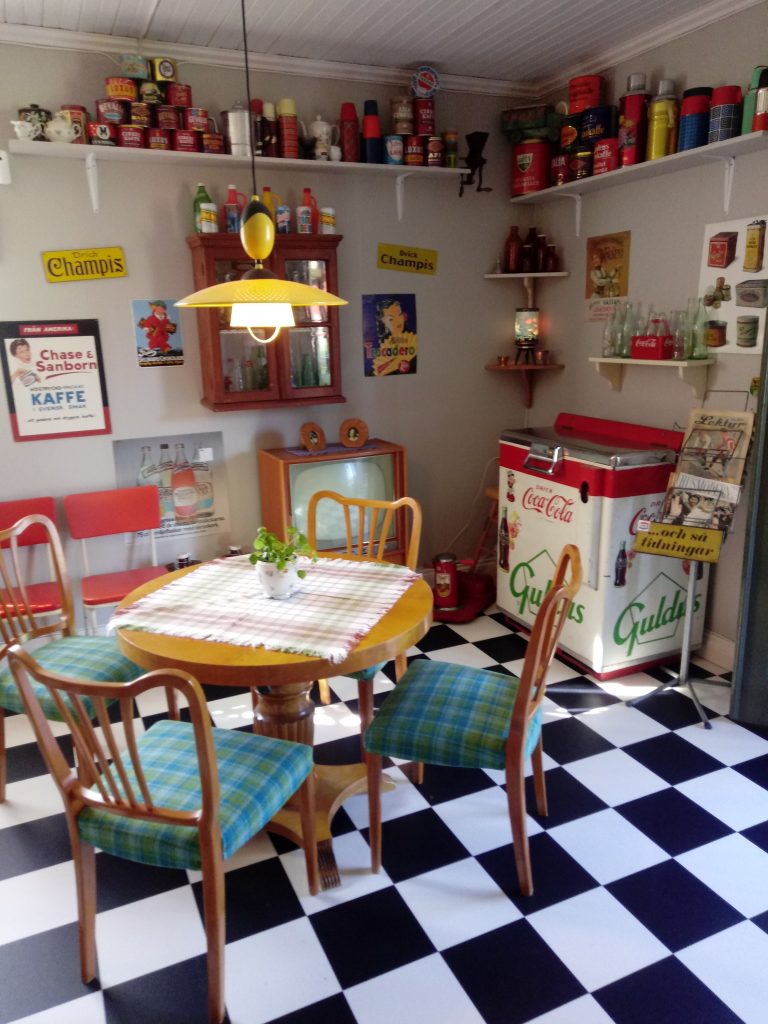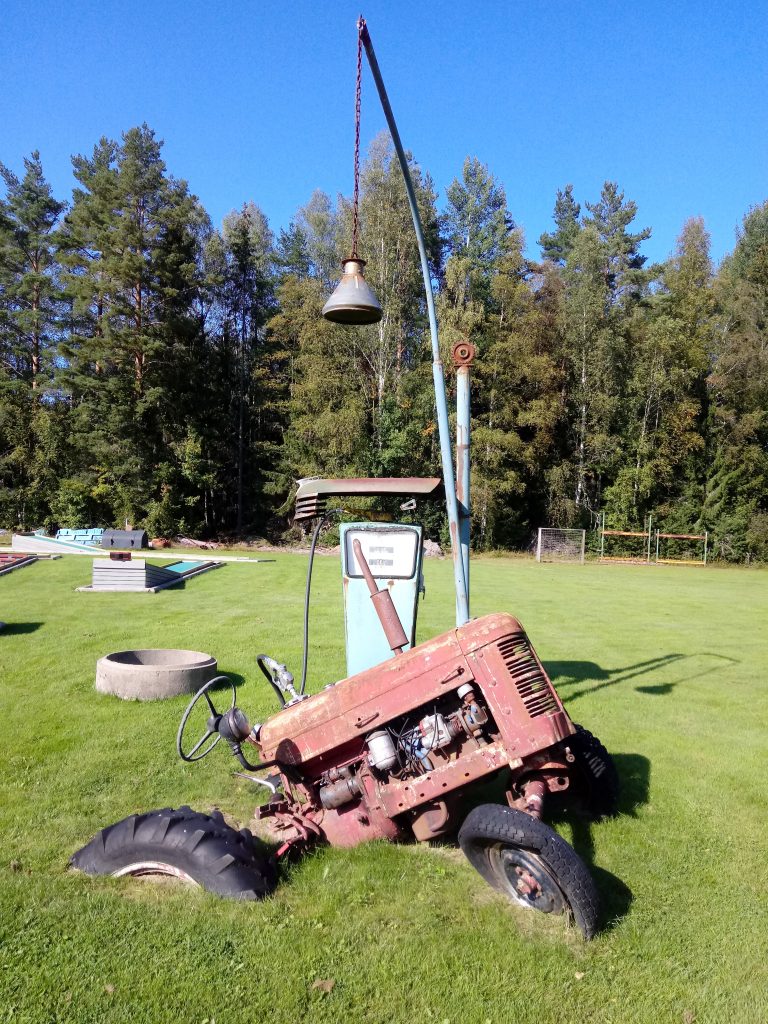 The only thing missing are the girls in polka dot dresses and rockabilly haircuts and the 1950's feeling to be complete during a visit to Ransäter's Vintage store and Café.

To visit Aina's café is like using a time machine and stepping right into the 1950's. Here you can find the black and white tiled floor, the typical furniture, box tv and jukebox.
On the walls hang signs with soda advertisements and smiling housewives and the shelves are full of tin cans, thermoses and old-fashioned cookbooks. Behind the counter is Maud (whose middle name is Aina ) Karlsson selling her delicious home-baked pastries and in the narrow cooler you will find the obligatory cola in small glass bottles, as is fitting. Outside, the garden furniture is painted in red, white and blue. It somehow feels natural that bikers and fans of American classic cars come here for a coffee.

Not just a café
But Ransäter's Vintage is more than Aina's Café. Here you find small market stall filled with fun and unique stickers and decals as well as handmade rugs and items made of concrete. On the grounds there is a popular mini golf course with several hand-made courses where both tractors and old coffee pots play a role. And of course there is a vintage shop here with carefully selected items, lamps, jars, clothes, glass and porcelain… yes everything you can think of can be found in the cottage which previously stood outside Karlstad but which was saved by being brought here to Ransäter.
So how come you start a vintage place here and where do you get all the items from?
"We are collectors", says Åke Karlsson with his BP cap on from behind the counter. "That's how it began. We had so many things, we thought we would open a store and see if people came. The café came later."

BP is alive in Ransäter
At present, Ransäter's Vintage is a summer activity. The rest of the year, the couple works with a screen-printing company in Munkfors, where clothes, stickers and decals, among other things are printed. Goods that are of course sold in their own store.
That Maud and Åke are collectors becomes quite obvious when you visit Ransäter's Vintage and most striking is perhaps the built-up BP gas station on teh grounds. With authentic pumps, signs and even a station house, today only the petrol is missing, but it is probably also the only thing missing during this magical journey back in time.
---
A summer to look forward to in Ransäter!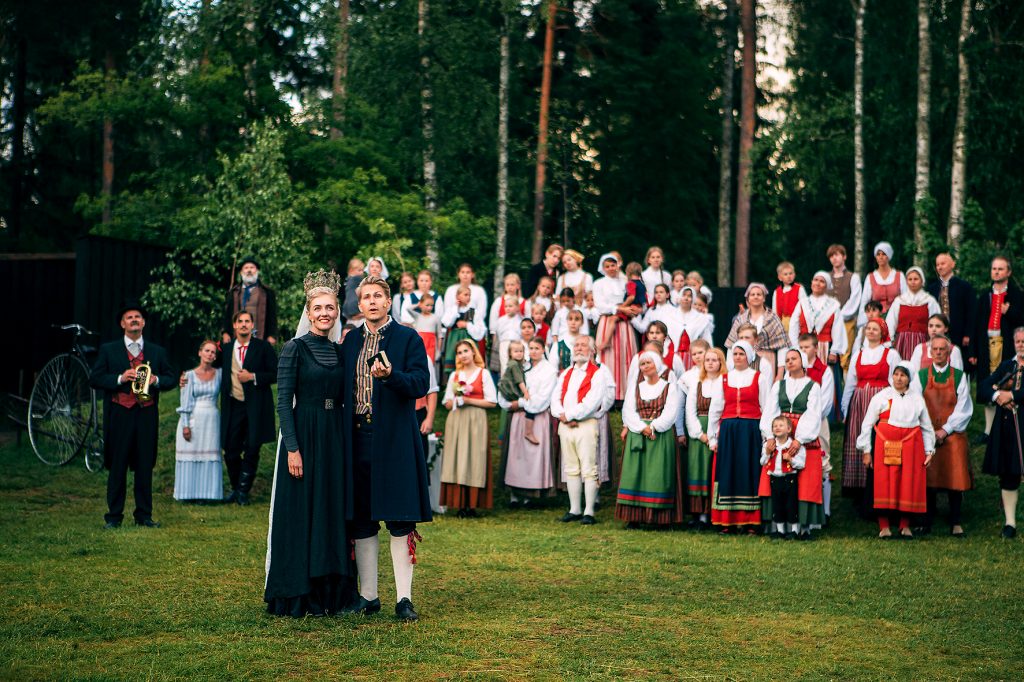 This year it looks like we can finally look forward to all the exciting events by The Ransäter Homestead Museum that we have been used to, but which have been canceled for the past two years.

It starts already in May with Wolfland Springmeet and continues with The Ransäter Fiddlers´ Festival in early
June. The traditional midsummer celebrations are also planned to be held and in connection with that, Erik and Anna will finally rekindle their love story in Värmlänningarna. A comedic play that due to the pandemic has had its first long break since the popular comedy was first set up in 1953.

This year there will be four performance dates at the outdoor theatre, on June 24- 25 and on July 2-3 and the audience is in for some changes. This year the whole family is targeted, the show is shortened and full of surprises. Like last year the leads are played by Ole Alexander Bang and Emelie Hebbe and Mother Annika is played by Anna-Lotta Larsson.

The world's largest accordion festival, "Roadside Accordion Play", is held for the 49th time in early July, and the Nordic Dog Show on the last weekend of July.

In August, we can all gather for the annual Antiques and Collectors' Fair again and later in the month there will be dancing during the Heart Line Dance days.

It looks to be a promising summer in Munkfors and Ransäter!