Now the distinguished KMTI also offers top class paddle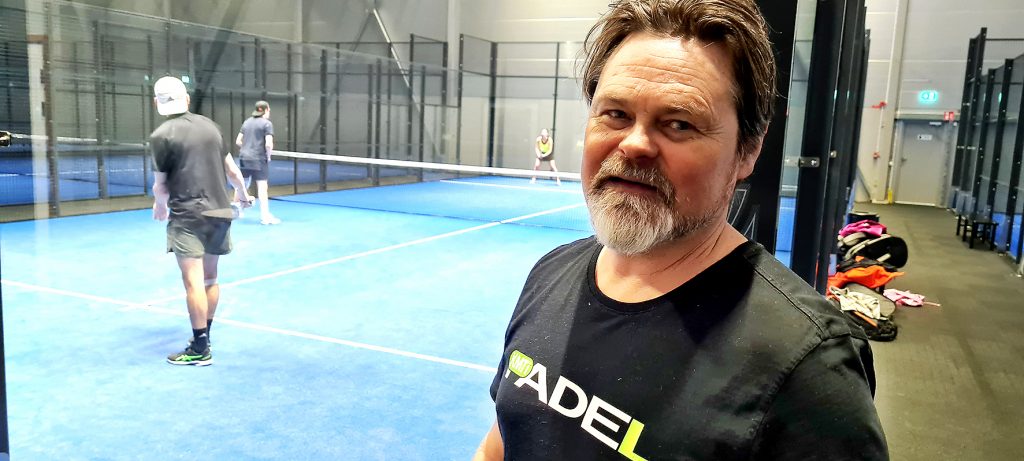 The fitness centre KMTI turns 40 years old this year. The company has been family owned all the time and Janne Bengtsson has been the sole owner for the last 22 years. Since November of last year there is now a new paddle hall at KMTI situated in Våxnäs in Karlstad. The paddle sport has grown crazy fast and the competition is fierce.
It is an advantage for us that we entered the business at this late stage and learned from the possible mistakes of others. We have invested in the highest quality of everything and we are told that we have managed to get everything right regarding lighting, court surface, ceiling height (twelve meters), no disturbing reflections and no "distractions" on the walls. Our mantra is "well kept". Then the players will come too. We also have a personal touch because we are not part of a large chain but are a familiar fitness centre. That's where we stand out today. My partner Karin Brodén is for instance in charge of our yoga activities, Janne says.
Adjacent to the paddle courts there is also a cafeteria where the players are offered tasty barista coffee served in fine porcelain.
Janne Bengtsson (who used to be a talented track and field athlete) got hired as early on as 1984. Two years after KMTI was founded.
– I became the first personal trainer (PT) in Karlstad and I wasn't even aware of it, ha-ha!

KMTI is an abbreviation of:
Karlstad's
Medical Exercise
Training
Institute.

In 1987 he joined as a co-owner and in the year of 2000 he took over as the sole owner of the company.
We have many different training methods at our two fitness centers. The latest is the "Box", where we have the six KMTI Paddle Courts, cross fit and yoga.
KMTI also runs a company health service with 250 companies and 4 000 individuals as customers.
– The training undergoes an evolution all the time. The new thing is that the "medium" has been left out. Now many gym goers instead choose to either do really hard workouts or soft, gentle, movement-oriented training like yoga to de-stress.
Janne Bengtsson discovered te new sport of paddle already in 2012.
– At the time I was helping speedway rider Daniel Nermark. He had an apartment in Mallorca and said to me:
"Janne, you should invest in this new sport called paddle."
The sport had become hugely popular in Spain by then.
– Daniel showed me a video clip of a game of paddle and at first I thought it looked a bit silly. But I was completely mistaken and that is really where this journey started even though Karlstad was slow to promote this new game. The town got their first paddle hall as late as just over two years ago.
Janne likes to play the game himself.
– In spite of me having a ball sense like a wooden fence, according to Ulf Karlsson!
Ulf, who himself owned part of KMTI until the year of 2000, when he became a very successful national team captain of athletics. Janne Bengtsson thinks that paddle is a perfect activity, even when visiting as a tourist.
– The equipment doesn't take up any space in the car and if you don't bring your own racquet, everything can be rented from us.
KMTI's paddle hall measures 2000 square meters and has six double courts. No single courts.
– Double is the basic idea of the game.

Why paddle?
–It is easy to learn how to play the game. You get to a level where it becomes fun to play fast and you get a lot of joy of movement.
---