TORSBY – Northern Värmland
Ski resort of the year Branäs now also a paradise for downhill mountain biking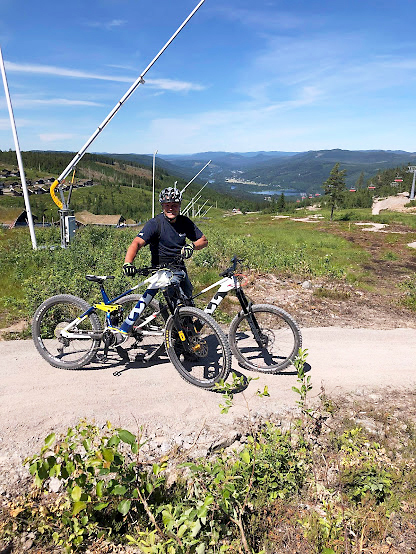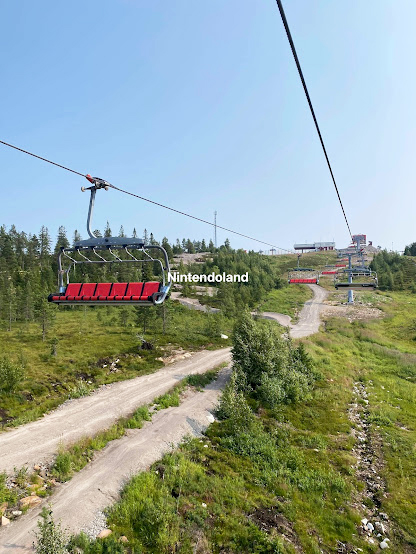 Family first.
That is the concept of Sweden's 4th largest ski resort.
In 2021 Branäs won the prestigious award "Swedish Ski Resort of the Year". Now they have also launched a big summer campaign promoting downhill mountain biking.
– Focusing on families. We intend to stay family-oriented during the summer as well, new local manager Mikael Forsell says.
He is a real athlete and and old gold medal winner, the new manager who started his job on the 16th of august in 2021. Mikael Forsell was for many years considered one of the most skilled bandy goalkeepers in the world. He was elected "Man of the Year" in bandy in 1995 and that same year he became a Swedish Champion in bandy with his teammates in Boltic. During the world championships in Västerås in 1997 he was awarded "Best Goalkeeper in the World".

"A dream job!"
His elite athlete career lasted for 20 years. Now he faces a new challenge with skiing paradise Branäs that has also become a paradise for downhill mountain biking in the summer.
-A dream job! I as a local manager am in charge of daily operations while Anton Renström manages the technical side of it. Slalom became my big interest after the bandy career and I do have more than 30 years experience from service and sales. Service is all about the same thing. To exceed people's expectations. From my career as an elite athlete I learnt that achievements stem from the ability to work well together as a team, the old bandy champion says.


Branäs "six chair express" the Lake Express constitutes the heart of the mountain bike campaign. With this lift you are able to get to the family oriented downhill tracks like "Nintendoland" and the "Nordsjöbacken", as well as to the Toppstugan which is going to be open and serve as a café while at the same time offer a view of the landscape.
The easiest way to get to Sjöexpressen by mountain bike is to use the trail Startträckan that begins at Soltorget.

No wild downhill riding
But it is not about wild downhill riding on black slopes. Families with children of all ages are our primary market. Our intention is to offer them a stay with fun activities to choose from. Just like during the winter season.
With their 13 medals in the "children's holiday" award category Branäs felt they were ready to invest in summer holiday fun for the families too.
-We are family oriented in the way we conduct business. From the top down we have 3 airborne bike trails alnd 2 cross country trails in the woods. On Stortorget up on the mountain we have built 3 large buildings along with challenging and fun mountain bike tracks for the smallest children where they can practice their balance and strength. But I know that a lot of older children like these tracks as well, Forsell tells us!
The expansion will continue. Below the ground as well!

A track in the garage
-Underneath Stortorget we have a parking garage that holds 100 cars. The idea is to construct yet another mountain bike track inside of the parking garage. We are gradually going to construct more bike trails, mindful of the needs of e-bikers.
The Branäs area can offer 4 500 beds today. The plan is to more than double that figure in the near future.
The cycling investment was inaugurated in the summer of 2021 and instantly became a big success!
There are already plenty of BBQ sites and resting places with fantastic views in this area. They are open in the summer as well.
Those who come here to do serious workouts can also find many miles of asphalt roads and dirt roads with low traffic.
To go to Branäs without your own bike is no problem. There are bike rental companies on the grounds that can offer suitable bikes for small children, juniors and adults alike.
---
Torsby Ski Tunnel & Sports Center
– an eldorado for everyone who is active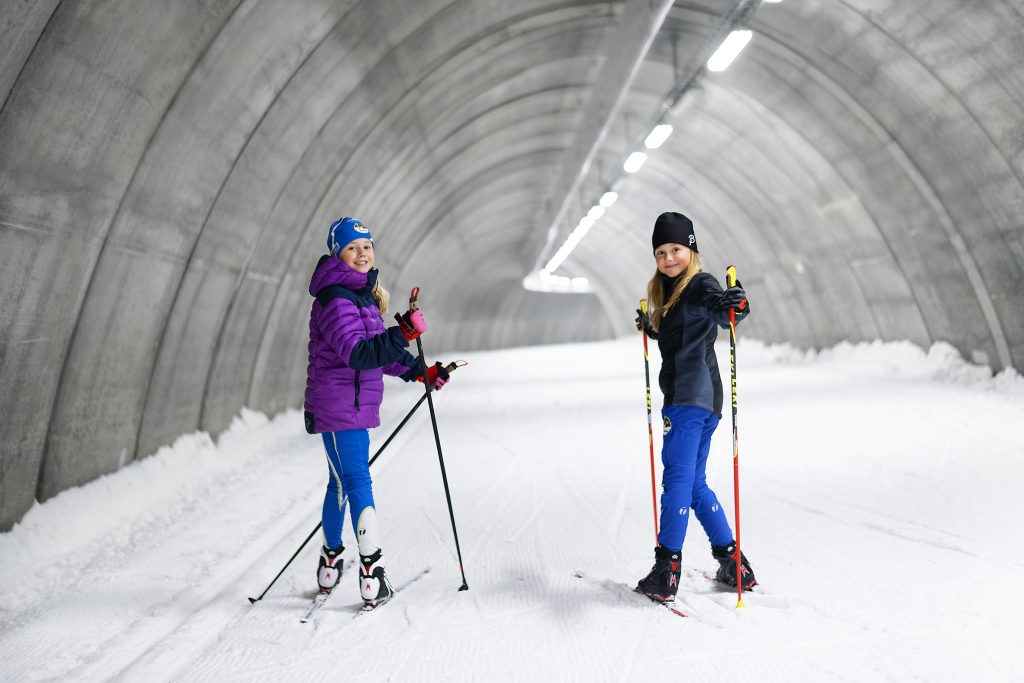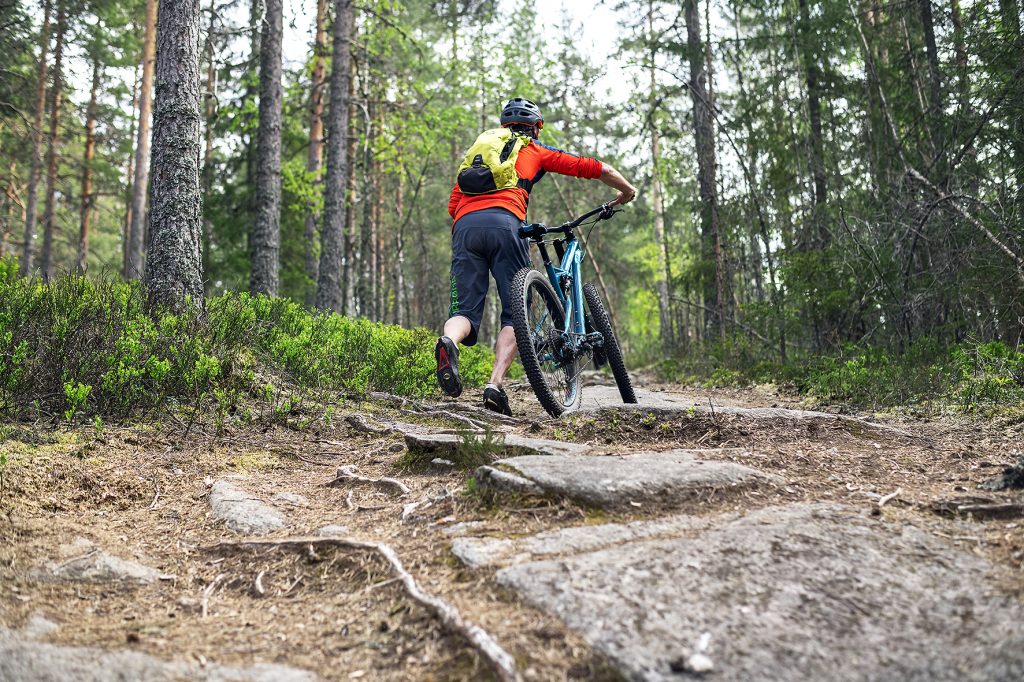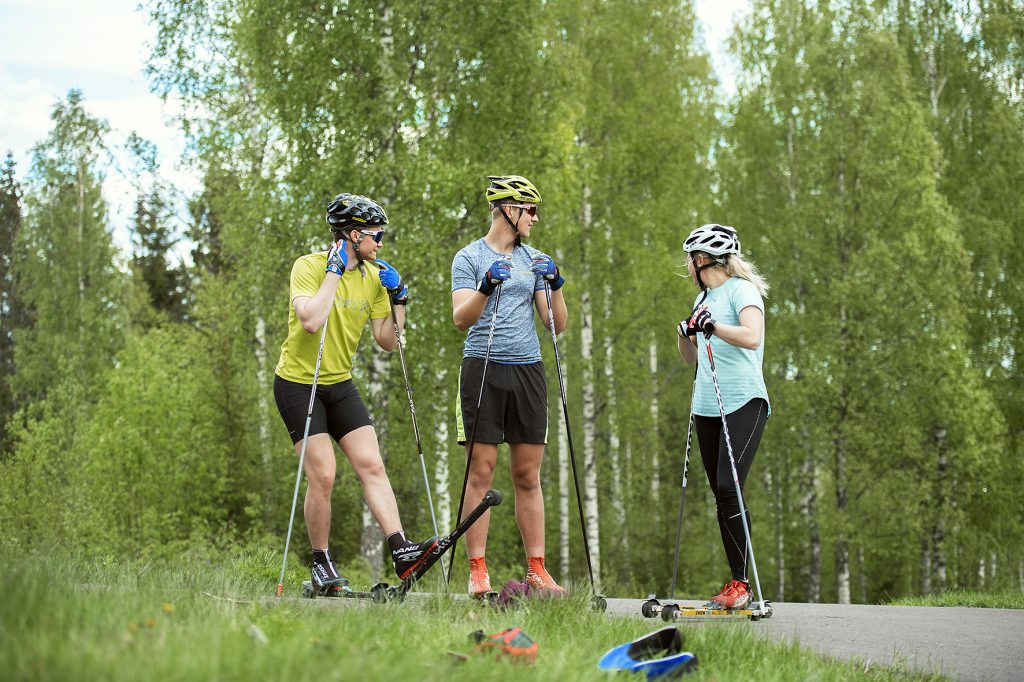 Torsby Ski Tunnel & Sports Center is an eldorado and a destination for everyone who likes to live an active life.
– The most enjoyable thing about my job is that every day is different. There is an enormous potential here, says Anna Lindqvist, who has been site manager for four years.
The ski tunnel was inaugurated on the 16th of June, 2006. It is Sweden's first and with its 1 287 hilly meters the world's longest of its kind.

The ski tunnel is open twelve months a year and it is visited by 30 000 cross-country skiers annually, both beginners and experienced exercisers. And superstars of course!

Go with superstars
Here you can, if you are lucky, ski side by side with some of the world's best biathletes and cross-country skiers. Torsby's two most recent Olympic medalists, biathletes Linn Persson and Mona Brorsson for instance.
The tunnel also has its own shooting range and is the world's first biathlon facility for indoor training.
The tunnel is built of concrete. Soil masses have been moved over so that it resembles a ridge and follows the natural topography of the surroundings, with a height difference of 12 meters. There are 9 miles of cooling tubes built into the ground. The impressive facility is both air- and ground cooled.
The temperature inside is kept at a comfortable 0° C to – 3° C.
Adjacent to the facility there is also the Torsby Testing Lab, which is the Stjerne School´s (which has a biathlon gymnasium) Center for physiological testing.

So much more
– The ski tunnel is an attraction to the whole of Torsby, but our Sports Center is so much more than the tunnel, states Anna Lindqvist.
In the large area, in addition to skiing indoors, outdoors or on the roller ski track, you can also run, hike, bike, play paddle, work out in the gym or play frisbee golf.
– We had 300 km of cycle paths on gravel and for mountain biking in terrain before. Now we have expanded them a lot and continue to do so. We also inaugurated a new bike park two years ago, with a pump track and flow trial. Cycling is in now.
As of this summer, there is also an 18 hole course for frisbee golf in the area.
– We have expanded with 9 holes here and we also have two paddle courts.

Many hiking trails
There are also plenty of hiking and running trails. Among other things, the popular Hovfjälls trail, which measures a full 27 kilometers.
For outdoor cross-country skiers, there are now also better ski track centers.
– We are a very good place to visit if you want to train and have fun because we have so many different forms of training to offer in a nice environment, Anna Lindqvist says.
Torsby Ski Tunnel & Sports Center is located just 1 kilometer from central Torsby.
Visitors to the area can find accommodation at Torsby Sports Hotel and Valbergsåsens Sports Hotel, among others.
---
Chocolatier Naturpralinen
in Sysslebäck turns 15!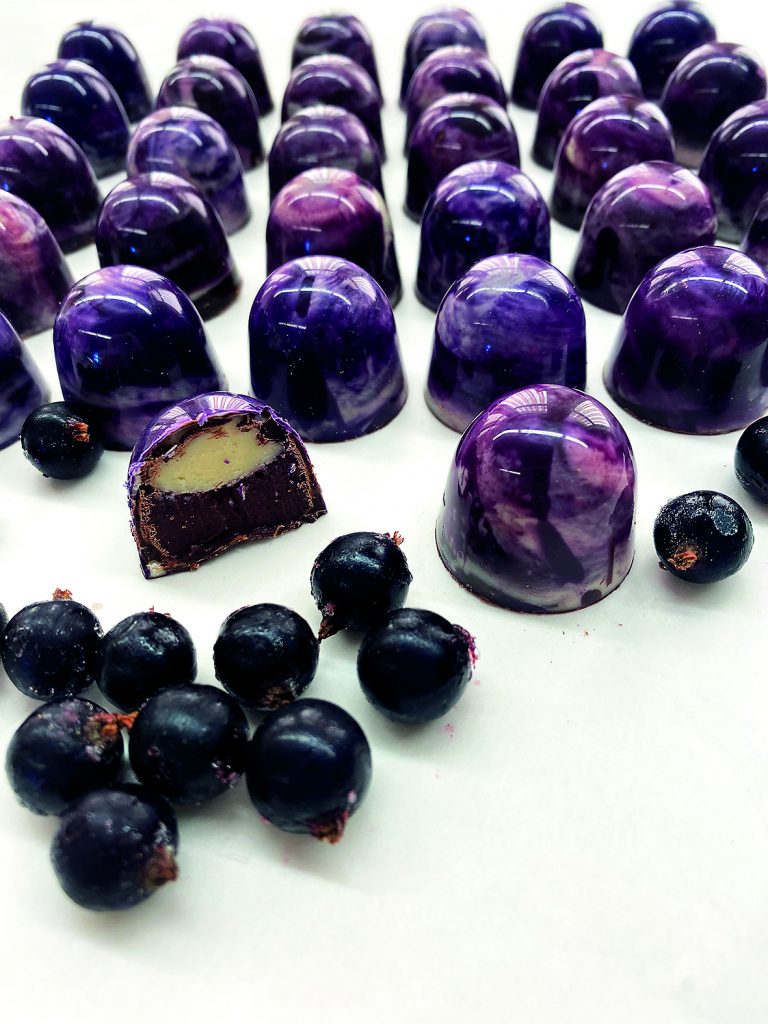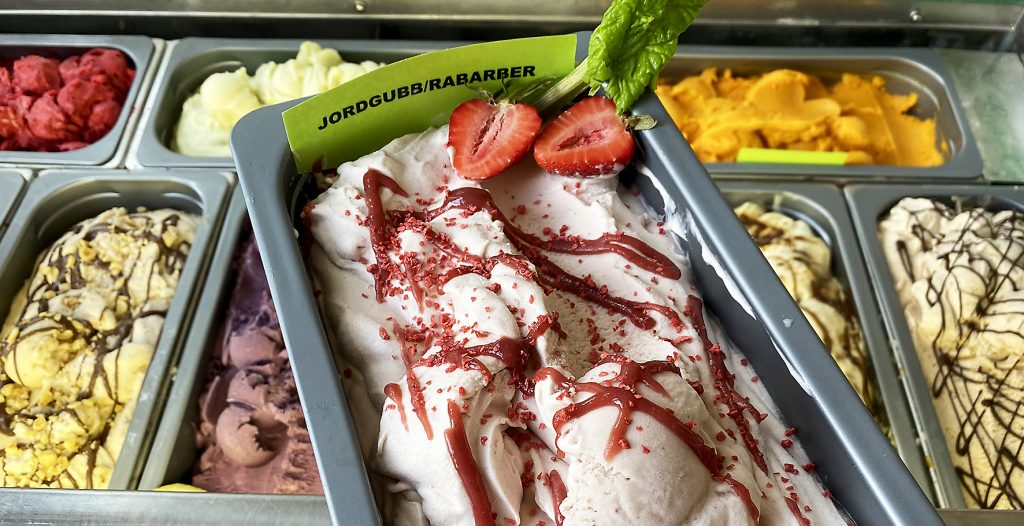 In 2007 Marie Axelsson bought the old school house in Sysslebäck and could finally try out her dream of making her own chocolate. There were many croakers who warned her that the company probably wouldn't survive more than a year or two but the company, called Naturpralinen, now turns 15.

Marie, who already as a child in Branäs decided to become a baker or a confectioner, ended up going to restaurant school by mistake. Her mother convinced her to finish the education as she was sure that as a chef she would never be without a job – "people have to eat 3 times a day!"

So she did! Marie remained in the restaurant business for almost 25 years, in Stockholm as well as other places, and she has started and run her own restaurants. After 12 intensive years in Trysilfjället, she suffered work related injuries, and had to hang up the chef's hat and move on.

A childhood dream come true
Marie decided to persue her childhood dream and took a course in chocolate making held in Stockholm by confectioner Jan Hedh. Inspired by the course she bought an old school house in Sysslebäck and began building her own chocolate factory. After a lot of practice back home in Sysslebäck, Marie underwent more training at the Valrhona chocolate school in France and also visited Madagascar with them on a so called plantation-trip.

The Naturpralinen vision was to make assorted chocolates as inartificial as possible and have them reflect a part of Varmland and it's landscape. Many of the chocolate molds are designed by Marie and have shapes inspired by nature. She has also collaborated with Broby Graphic Design School in Sunne on the design of the chocolate boxes.

Flavors and products
All the chocolate and the ice cream that she also started making is made by her personally from scratch with all natural ingredients. She loves to experiment and developp new flavors, both for the chocolates and the ice cream. A lot of the berries used she picks herself, some in her own garden. She was the first one in Värmland to make her own soft ice cream (made frpm milk from Värmland, cream and real vanilla) and in addition to that she makes regular oldfashioned ice cream, sherbets, frozen yoghurt and gelato.

In the summer you are welcome to visit Naturpralinen men the products are also sold by retailers and in their own webshop. When visiting the factory in Sysslebäck you can not only shop but also have coffee on the large terrass maybe with some ice cream, chocolates or some other treat. During the summer high season Marie has help from local schoolkids selling her products. Holidays like Easter, advent and Christmas are considered high season at the chocolate factory and you can usually visit the store around these times to buy goodies.

So does Marie have a particular bestseller among her products?
Among the chocolates, what sells best is everything with licorice men a lot of people prefer my berry chocolates or want to try all the new items I have developped, says Marie. My bestseller otherwise is the ICE CREAM! In the summers a lot of people come here for my homemade ice cream which comes in many flavours and kinds. Not a lot of people make ice cream from scratch today unfortunately so this is quite unique.

Marie has been awarded 2 Silver medals for her chocolates in the Smaklust competition in Stockholm and also been appointed Woman of the Year by Torsby municipality. The chocolate brands used are Valrhona and Felchlin. Valrhona is used for truffles and fillings and the praline pieces are dipped in dark Felchlin.