KARLSTAD – Southern Värmland
Button Town Café – A success story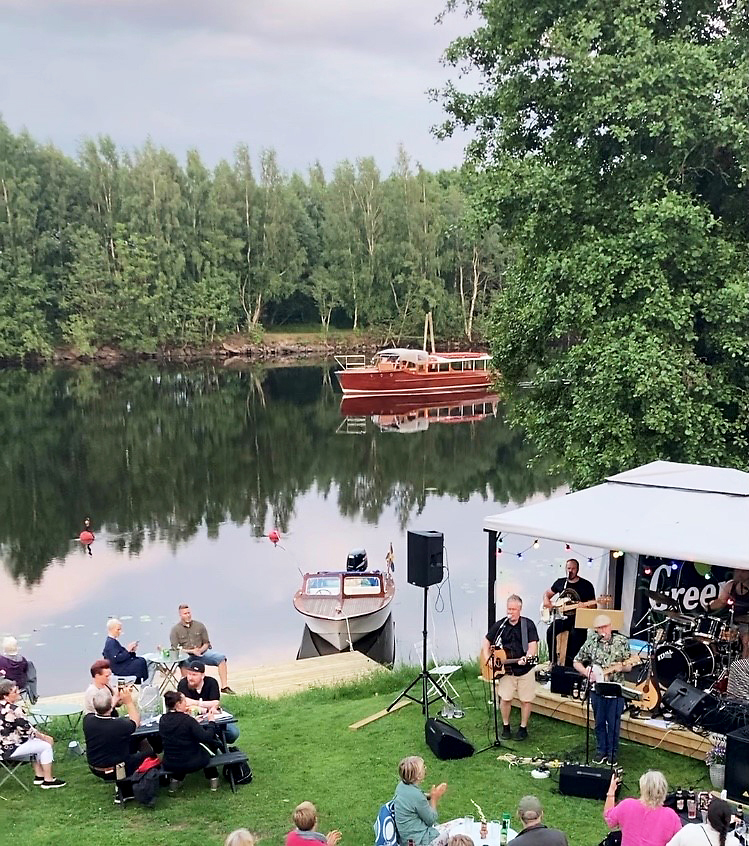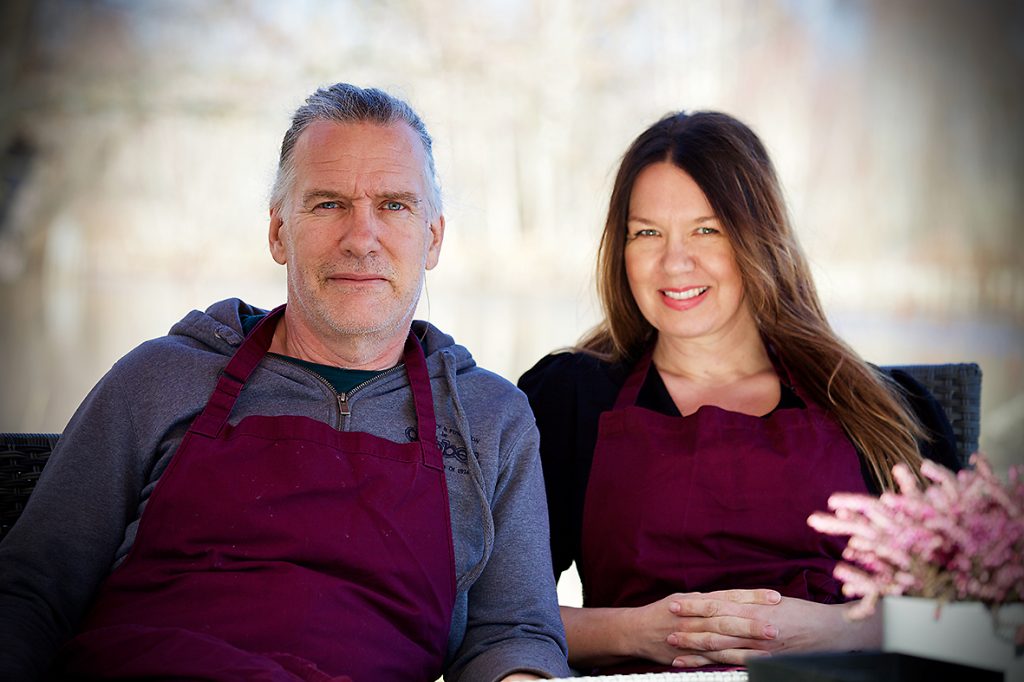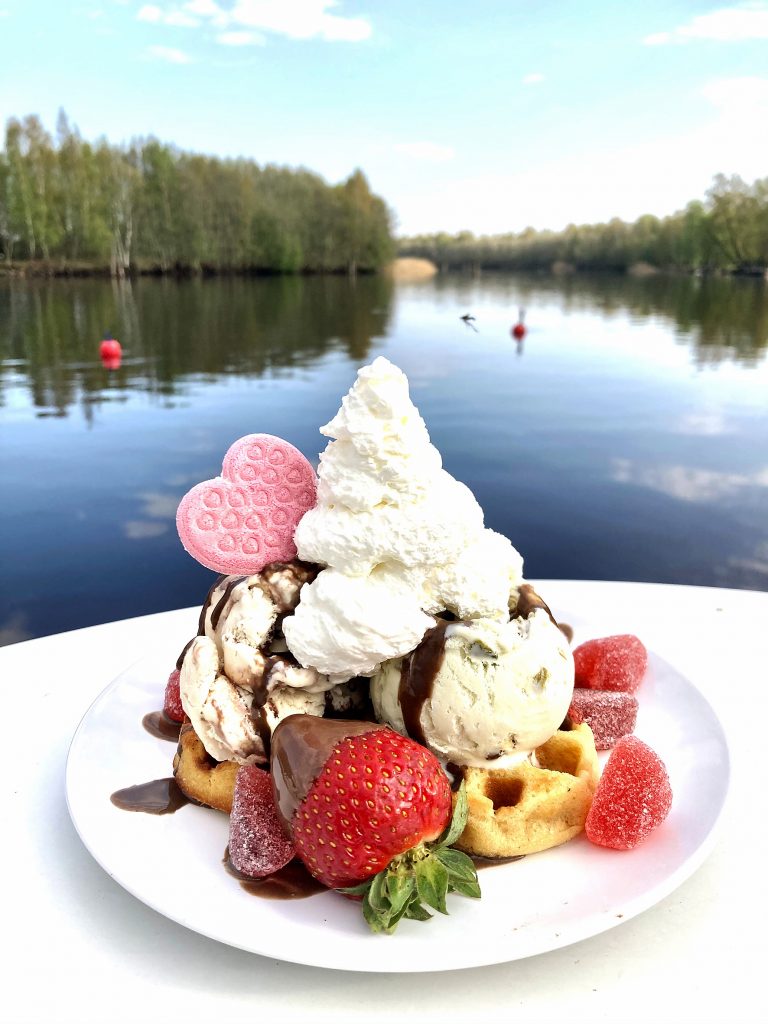 -The idea was just of a small garden café when it opened on the 4th of March 2021. But the the Button Town Café just outside Karlstad became the talk of the town, a very popular and huge success. Even though you can't get here by car!
-We are chasing a ball that grows all the time. That is what it feels like, Anna Åberg Bucht and her Mathias tell us. The clever name is Knappstad in English and that expression alone sparks your curiosity. And the surroundings conjure up images of England.
The café quickly became a restaurant as well where the menu even offers marrowbones for dogs.


Famous artists
The live music nights with established musicians quickly became a roaring success as well. The Button Town Café is located conveniently within walking distance from Karlstad suburbs like Romstad and Bellevue. The Stadshotellet hotel in town is located upstream just a couple of kilometers away.
It all started about two years ago when Anna and Mathias bought the expanded 19th century house just next to the river.
-I was employed as art director at
Region Västra Götaland and before that I had the same position in Karlstad. Mathias had founded and established an IT company in Karlstad.
During the pandemic the couple realized that the area was very popular for walking.
-We live right in the middle of the Knappstad bay area's nature reserve. Close to the city centre but still in the middle of nature. It was after having seen all the people walking by that I first had the idea of starting a café. Mathias sold his company in 2019 but continued to work for the company until the beginning of 2021. After he quit that job he planned to work less or even find something else to do.

A career change
When the café became so popular, I decided to go all in with this enterprise. This is the most enjoyable job we have had! Anna also quit her old job.
-I come from a small-business family and enterprising is in my blood. We used to entertain a lot of guests and my mother was a housewife. She taught me how to bake and cook and it has always been a great interest of mine. Everything on the menu at the Button Town Café is cooked and baked on site. Anna cooks food, makes toppings, salad dressings, bakes bread and pastries, makes salad and a lot more.
-We opened the café on the 4th of March and there were customers waiting in line already on the very first day. We had hired two young girls – Ida and Linn – from the neighborhood and they were almost traumatized by how many people came during the first weekends. We had to hire more people and in the summer we had 17 people on staff.

A thousand in one weekend
The café soon grew into a restaurant as well. And a "self service barbecue".
-This past spring we had chuck steak rib burger with side dishes on the menu and our guests were to do the cooking themselves on our two big grills. This became very popular and this concept made our turnover peak in April and set a new record high that lasted all year through.
A combination of marketing on Instagram, Facebook and their own web site along with word of mouth made local people and tourists come here in droves. Anna and Mathias have seven children from earlier relationships but none together. Both the younger children as well as the older ones are happy to help out with the business.
-A thousand guests in one weekend was not uncommon!
The live music evening were much appreciated. "Daughter" came here along with other artists like Thomas di Leva, Mats Ronander, Kalle Moraeus and Lenny Norman. An Irish evening was arranged as well, with local band GreenFreaks.
-Everyone really liked performing in our cosy café and would love to return! Now we would like to build a new stage either on the river or just next to it.
Anna and Mathias aim high for the future.

Hope to expand the building
–We are in an expansion phase right now and we plan to build an interior area for the restaurant of 280 square meters. For us to get permanent permission to serve alcohol requires that we have a separate kitchen area. The permit that we got this summer was only issued on a temporary basis. If we had a big area indoors we wouldn't need to depend on the weather as much and during the winter season we could try new things like for instance quiz nights.
Anna and Mathias would like to make their café a big hot spot for people to meet.
-We also plan to include art in our business – we think that art need to be put on display more than is currently the situation here in Värmland. In the future we hope to dedicate some of our interiors to art along with a nearby design shop. We'd also like to create a sculpture park in the future, Anna tells us.
-I am very interested in sports so I'd love to see a sports pub here too, says Mathias.

The plan to expand also includes several more slots for boats.
-This could turn into something like Spiken, outside Lidköping! We also hope it will become easier for the public to get here by water bus.

Renting a water bus
Transport by boat to the café would be a huge potential.
-I am going to become a ship's officer to be able to transport passengers. If I got the driver's license it would enable me to rent a water bus or maybe even to buy a small passenger boat that I could operate to transport guests. We also want to arrange private parties like for instance weddings, Mathias tells us.
A café with no accessroads and cars became a trademark!
Getting here is done by walking, by boat or by bicycle. Either a kilometer or so along the edges of the river from Romstad along the Knappstad trail or by the entrance in nature by the bird watching tower near the Vidö bridge heading towards Hammarö.
---
New large premises for Gengåvan!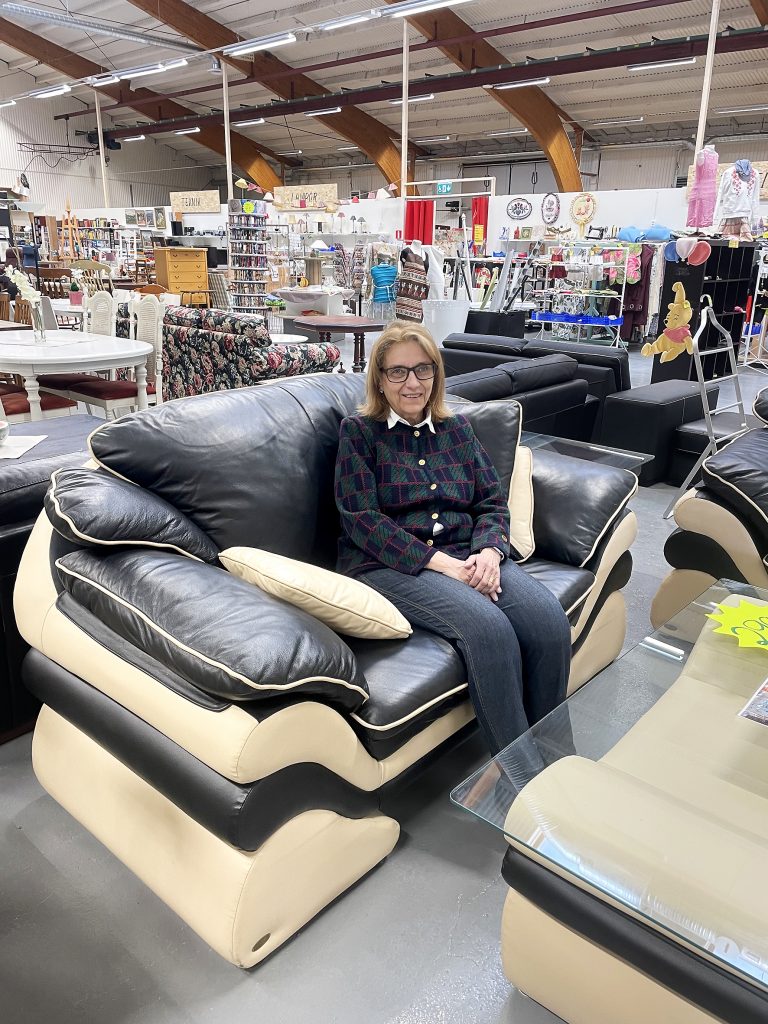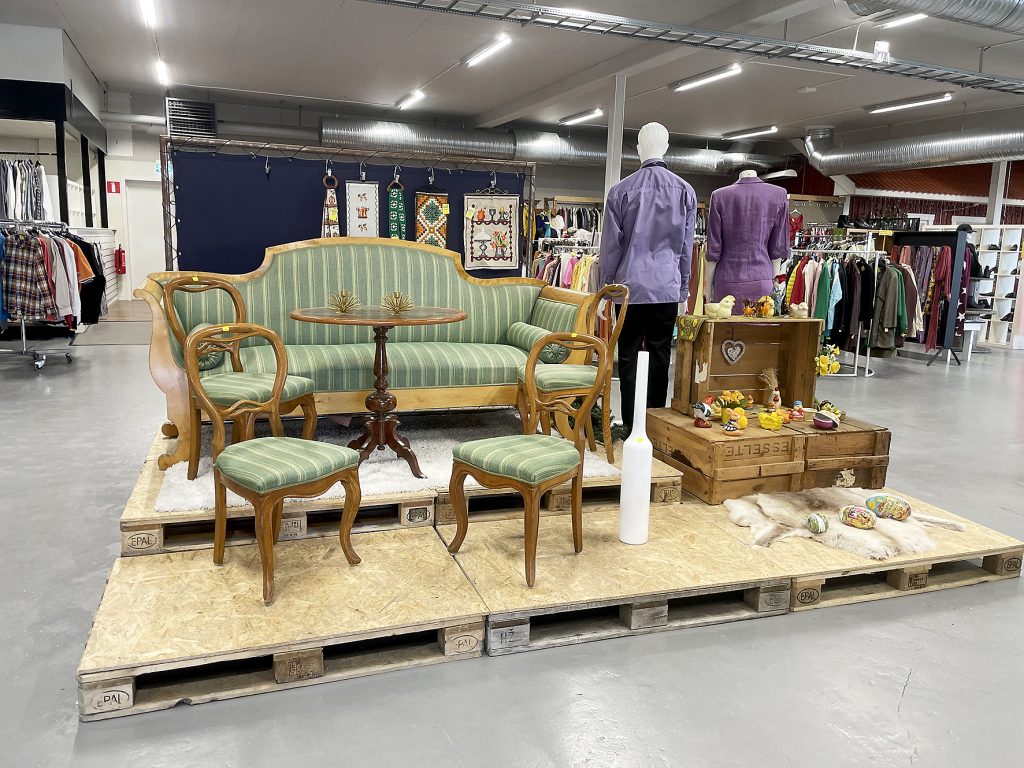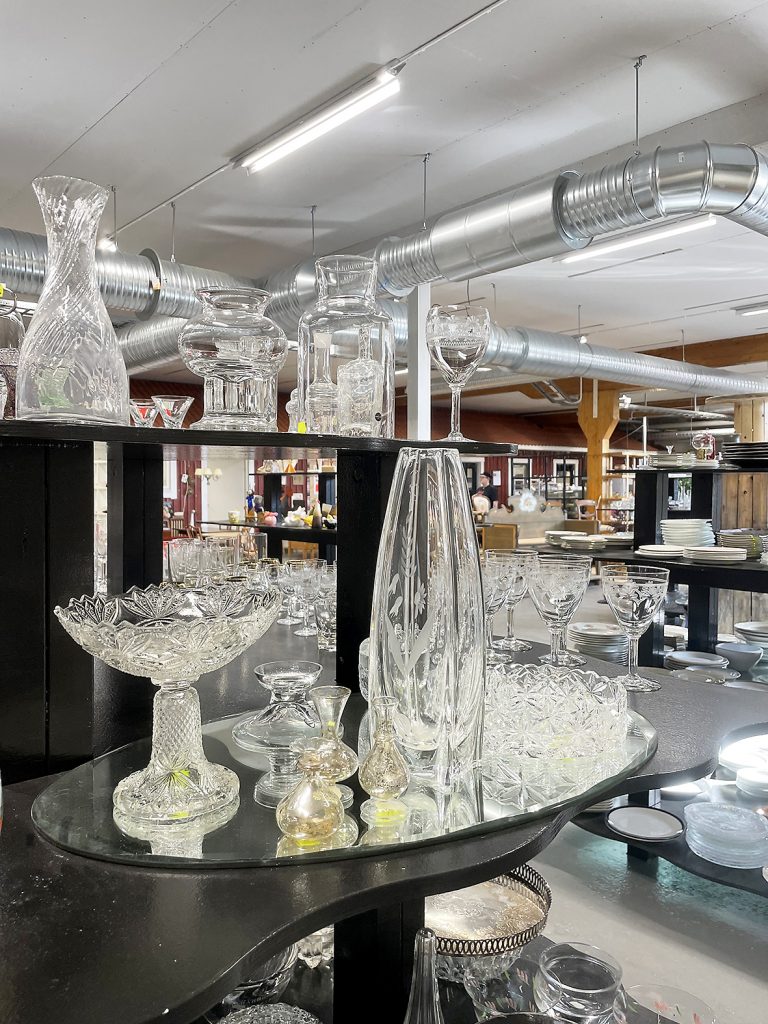 The second-hand store Gengåvan is one of Sweden's largest and is located in the Våxnäs area in Karlstad. Here you will find most things you may need – such as furniture, glass & porcelain, clothes, retro items, toys, sports & leisure, books, electronics, household goods, paintings, jewelery and watches.
In the autumn of 2021, the contract expired on the old premises and when it was not possible to renew, they had to look for a new home. Since October of 2021, Gengåvan can be found on Blockgatan 29, in its new large, airy premises. Here, 18 people have their workplace and the store also has a small number of volunteers. However, new volunteers are always welcome.
Gengåvan in Karlstad also runs a small café on the premises where they offer home-made coffeecake, sandwiches with many different toppings such as the much appreciated shrimp sandwiches and hotdogs and a few other goodies.
Gengåvan, which started in 1998, is a non-profit organization run by the Pentecostal Church in Karlstad and Karlstad's Church City Mission in collaboration.
---
Joakim Johansson
– an artist who stimulates your fantasy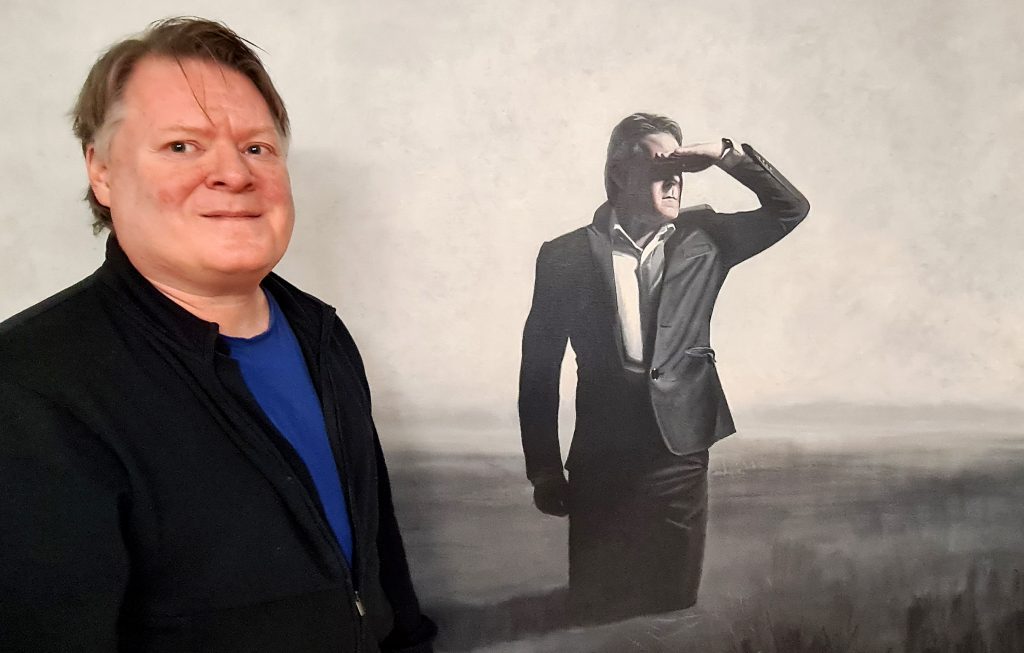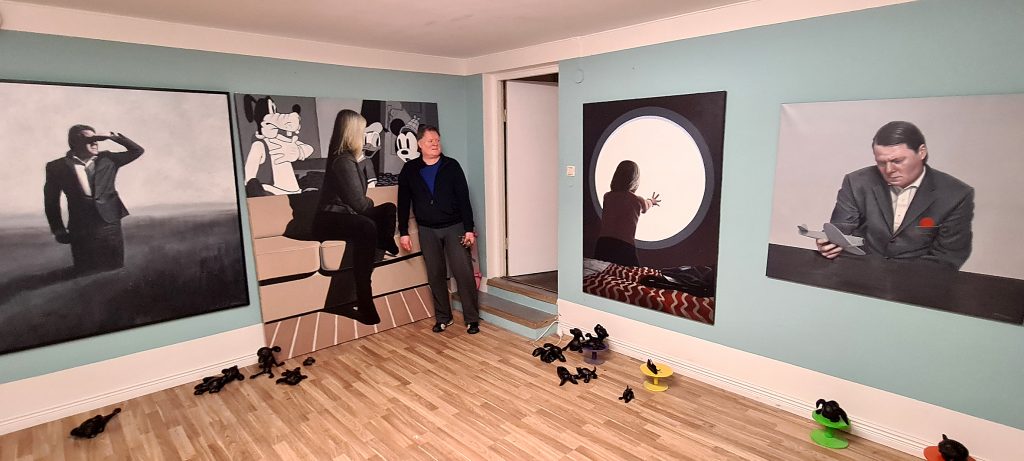 Joakim Johansson – an artist who stimulates your fantasy
The Lars Lerin art gallery Sandgrund attracts thousands of visitors every year. But the art scene in Karlstad holds far more than just Lerin. There is one artist that in his own way is just as exciting and who has gone from one success to another.
It was an English love affair and a kind old man's 100 kr note note that got Joakim Johansson's acclaimed career started in the 80's.
– I started painting full time as a 24-year old and I taught myself how to paint. I did attend a training course once but it was pointless. The teacher didn't know anything, he tells me.

Grade A in drawing
Joakim was born in 1965 in Karlstad.
-In my younger years I had an aptitude for painting but not the interest in it. At that time it was all about sports. But I did get a grade A in drawing in my 5th year of school. When everyone else made an ashtray while working with modeling clay, I made a cat on a couch next to an old man smoking a pipe, haha! I still have it to this day.
When Joakim was in the 2nd grade of senior high school he experienced hard times.
-We had a lesson in Swedish at around 9 AM. Suddenly I did not see the text in the book. I went to the bathroom, looked in the mirror but could not see my face and got super anxious.
He was just able to find his way home on his bicycle.
-Then the loss of vision continued regularly. My mother took me to an ophtalmologist but he saw nothing wrong. I had been struck by migraine with aura, something that affects your visual field. Today there is medication but there was none back then.

Did not dare go out
His whole life changed.
-I had to give up sports and for half a year I did not even dare go out. It was at that time that I took to painting to have something to keep me busy.
Somewhat later while on a trip with his soccer team he met an English girl two years younger than him.
-Everyone on my team came on to Debbie but she picked me, ha-ha! Unfortunately I did not dare to go on a trip to England to see her, but we corresponded by mail for seven years. Debbie had attended art school and worked at art fairs. We made some drawings in the letters and I sent her a painting. It was at that point that I started to take a serious interest in painting.

This is how it started
When Joakim received a 100 kr note, from an old man his mum used to help, he bought some Chinese oil paint and an art board.
-I started painting at the top and worked myself downwards and it went to hell. It is not as simple as just painting. You have got to learn how the paint works. Since then, I have been stuck! I knew that the next painting I did would turn out for the better, and then the next one, and then the next……
He held his first exhibition in a small exhibition hall in the old library in Karlstad in 1995. Since then it's all been upward and onward. Now this painter from Karlstad has participated in six art exhibitions at Liljevalchs in Stockholm and he is represented in different settings and at private art collectors all over the country.
-It has actually happened that my brother Niklas has had friends come over and said: "Oh wow, do you have a Joakim Johansson on the wall." Kind of funny when Niklas tells them we are brothers.

Stimulates your fantasy
Joakim Johansson really has his own style with his cool, fantasy stimulating and mysterious artworks. He captures moments in time, not what you see but what has just happened or what is about to happen next.
-I am NOT a photorealist. I go beyond that and focus on details and a certain light. Everything insignificant is stripped away. I want to present something mysterious, something that does not exist in the real world.
Like the motif with the deer on a bed and a wolf that peeks in through the bedroom door! It is not rare that a painting might take up to two years to complete. Joakim Johansson has a studio along with a small art gallery in the district of Norrstrand in Karlstad, and he doesn't mind visitors.
So what happened to his English love Debbie? Oh well, they lost touch with each other and she never got to know that her Swedish "Jocke" in time became a very recognized painter in Sweden.
---
Plantbased pizza served at Bakgården in Karlstad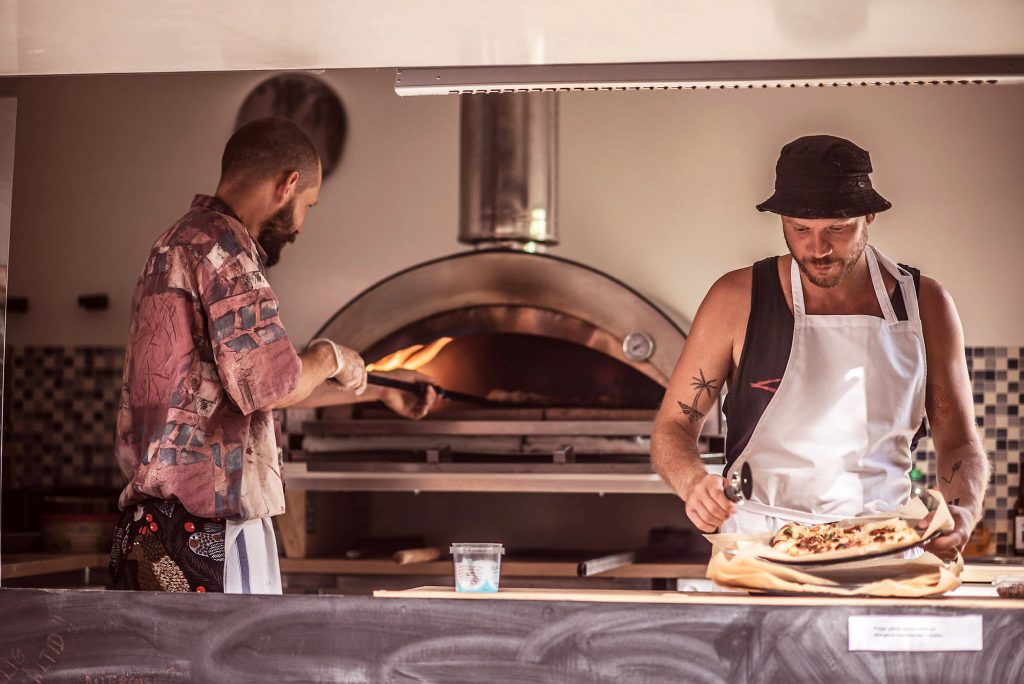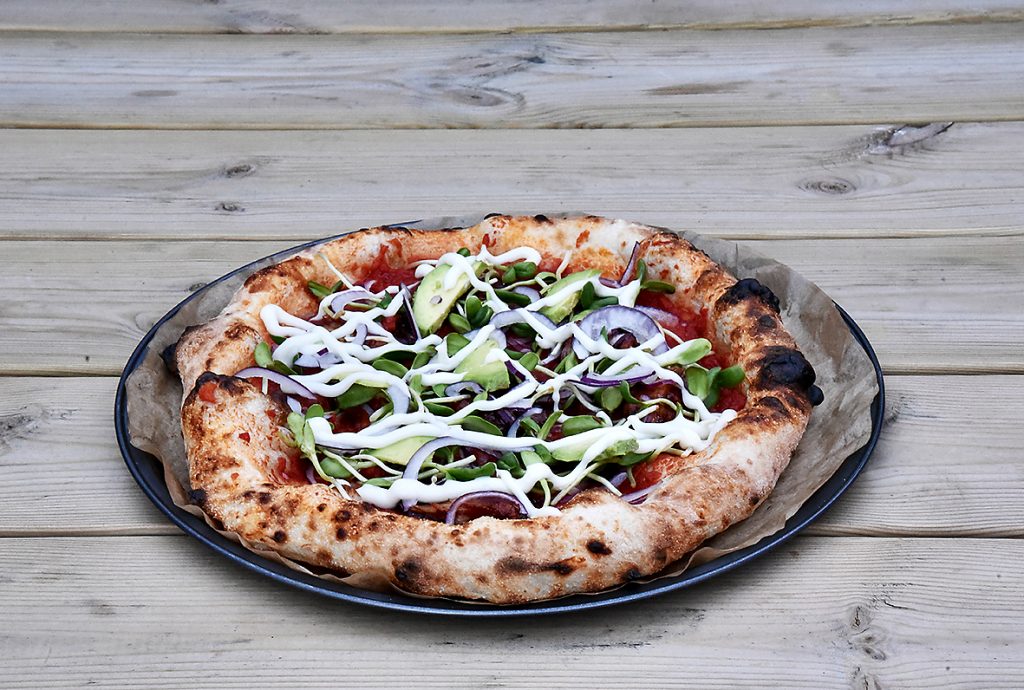 The idea came to Jonas Dahlgren while visiting a friend, in Vancouver, western Canada, who took him to a vegan pizza parlor. Jonas realized that something like that did not exist in Sweden at the time and was quick to talk his best friend Stefan Pinkava into starting their own. It was via an acquaintance he got to know at an event in the summer of 2020 that he was able to find the perfect place at Kasernhöjden in Karlstad and the rest is, as they say, history.

Today the gentlemen bake vegan pizzas four days a week, Thursday through Sunday, and for the summer of 2022 they hope to extend their opening hours as well as the menu along with a permit to serve alcohol. They also plan to host live-music nights.

So what makes Bakgården in Karlstad unique and worth visiting?
-We put a lot of love, time and thought into making our pizzas. The idea is that they should all be different in their makeup, but still luxurious in their own way, Jonas tells us. It should be hard to pick one even though there are few pizzas on the menu. Among other things we make our own cashew cheese, and also our own soy mince beef and then we also pick different kinds of wild mushrooms that we put on our special edition pizzas. We also make our own dessert pizzas with among other things hazelnut crème, almond mass, forest berries, roasted hazelnuts and vanilla ice cream. They taste crazy good!

Do you have a bestseller; we ask, while trying not to drool?
-There are two pizzas that we consider our bestsellers ever since we opened up, and they are also the only two pizzas that have stayed on our menu all along, and they are called Valerio and Fresh Prince, Jonas tells us. Valerio is a wonderful pizza with a foundation of garlic mayonnaise that is grilled and becomes surprisingly cheesy after just a minute or so in 400 degrees. Other ingredients to enter the oven are sun-dried tomatoes, red chili fruit, our homemade cashew mozzarella, walnuts and basil. Once out of the oven we drizzle agave syrup on top of the pizza. A visually appealing pizza and an exciting taste experience with saltiness, sweetness and heat. And some "crunch" from the walnuts!
On Fresh Prince we have a neutral tomato base, red onion and a bbq-sauce marinated soy protein that resembles chicken in its texture. Once grilled and out of the oven we top it off with fresh arugula, fresh avocado, fresh red onion and homemade garlic sauce. A pizza that you can't get tired of and many customers' favorite on the menu!"

It all sounds crazy delicious so don't be surprised if you visit Bakgården and find the author of this text in a world of her own munching on a Fresh Prince – this summer will definitely see a visit or two to Kasernhöjden in Karlstad times this summer!
---
Evening trip on the lake with Stella Polaris.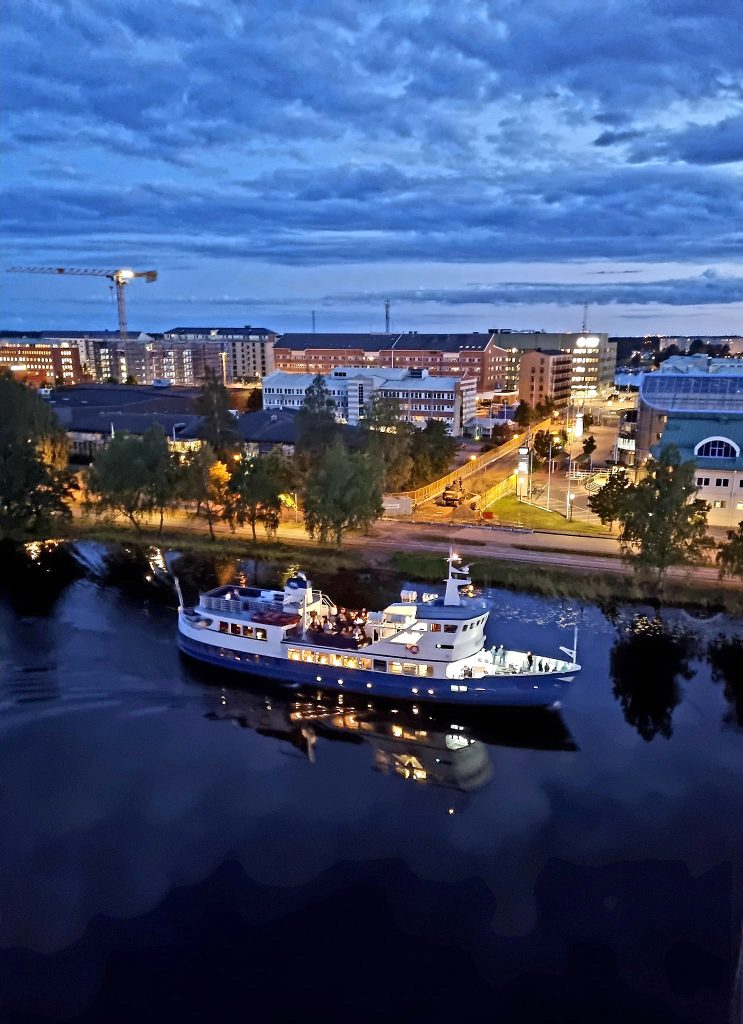 Evening trip on the lake with Stella Polaris.
Five evenings a week during summer she departs from the inner harbour – Stella Polaris, Karlstad's own cruise ship. Tuesday to Saturday at 6 pm, you set off to dig in on shrimp and other good food whilst the Vänern archipelago pass by the windows.
Stella Polaris has been running these cruises since 2011, though she has grown over the years and is now a larger vessel than at the beginning. Today she has a three-story salon, two bar's and three separate outer decks.

The cruises which are very popular lasts 3 1/3 hours and most evenings there is live music to enjoy with food and drink. During weekends in November and December Christmas dinner cruises are run where traditional Christmas dinner is served.
It is perfectly possible to rent the Stella Polaris for private parties and gatherings. If you do, you decide when to depart and when to return, which route to take, if you wish to make a stop somewhere or maybe remain in the harbour. Naturally you also decide what is to be served.
Perhaps time to take a trip on the lake!? Ship ahoj!
---
Improving Karlstad's Residence park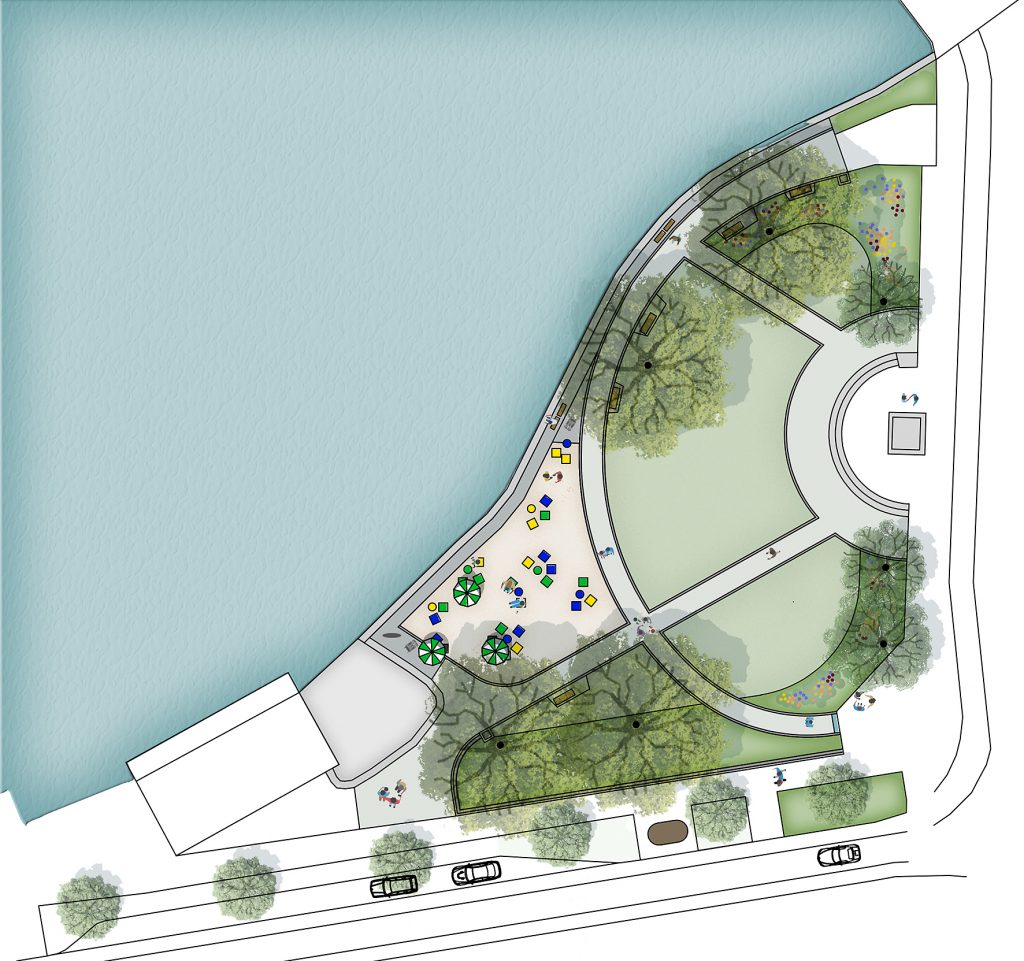 In the beginning of 2019 the river boat restaurant that sank by the dock was salvaged and during this operation much of the old Residence park was destroyed. During the summers of 2020 and 2021 Karlstad municipality made a temporary beach on this site much to the appreciation of both locals and visitors alike. For the summer of 2022 they invested in a more permanent improvement of the area where there is now room for chilling out on the beach, play and also green areas.

At the corner of Älvgatan/Järnvägsgatan there is a new entrance to the parkland. The former crescent-shaped walkway has been recreated and lined with green areas and plantings with perennials and trees. The popular sandy beach remains and there they invest in deck chairs and tables put under fairy lights during the summer season. There is also space for smaller café carts and ice cream stands next to the park.
See you in the Residence park this summer!
---
A visit to Julin´s is like eating real barbecue in Texas!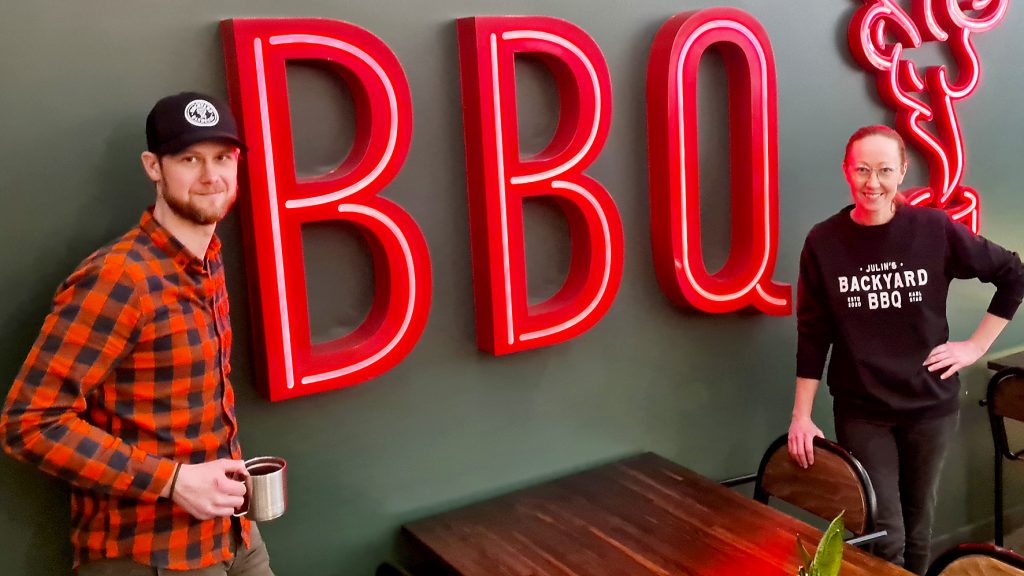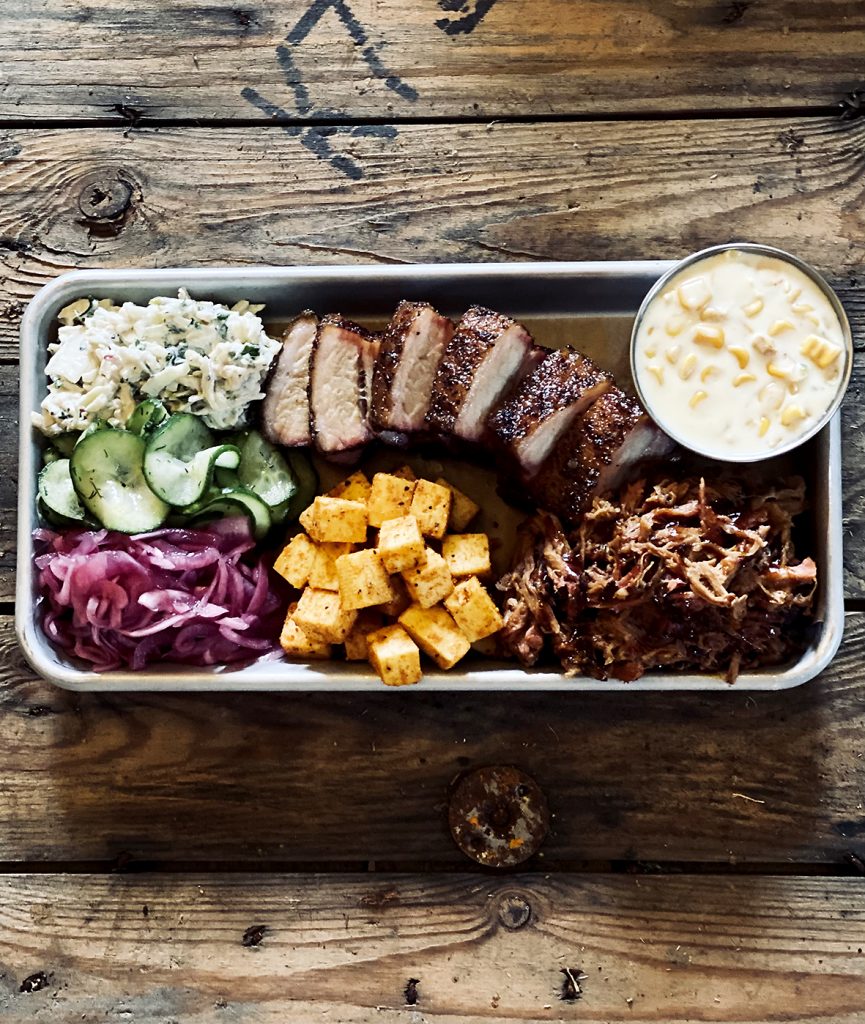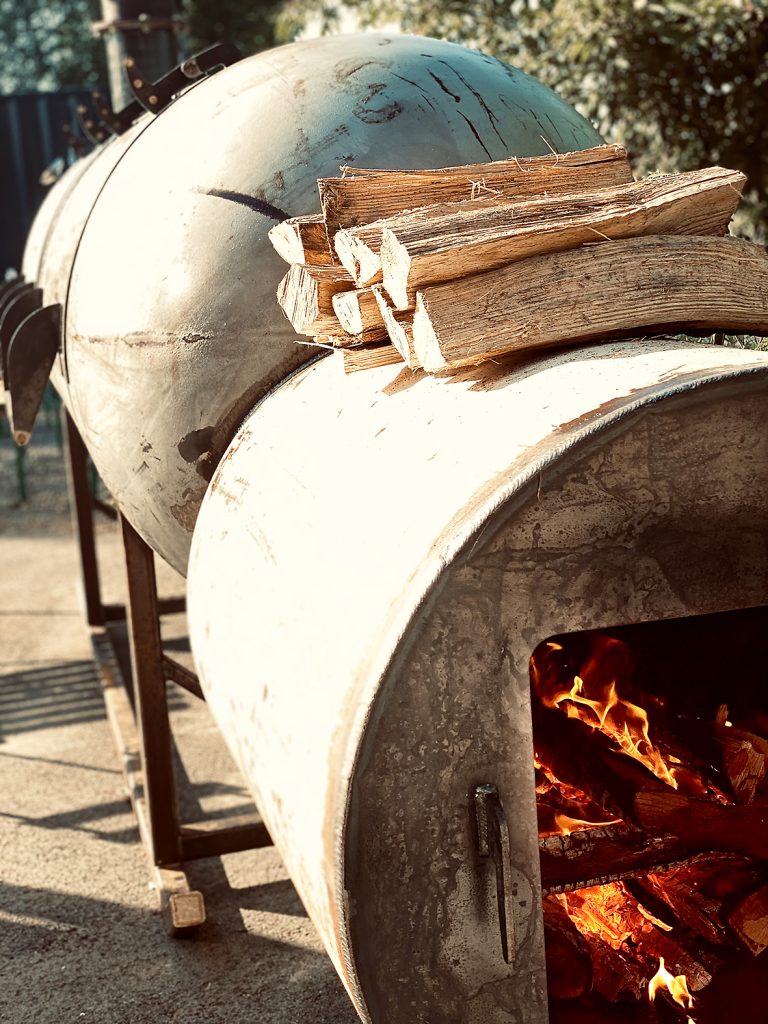 In a short time,
Julin´s Backyard Barbecue
in Karlstad has become not just a restaurant but a destination.
-What we want is to serve real Texas barbecue. An odd place. No ordinary restaurant. Long time, low heat, fire and smoke. Back to the roots. The cooking can take up to twelve hours, says Anders Julin, who runs this hot spot for all barbecue fans together with his wife Malin.
You find Julin´s in a former boat hall in
Örsholmen in Karlstad.
– Would not be possible to keep the restaurant in central Karlstad. Look at our chimney!

Long queues
As mentioned, the place has been transformed into a destination.
Some time ago, a father and son came from Linköping to Karlstad and spent the night in a hotel just to eat here! Business really took off last summer. We had long queues. The popularity came less than a year after we opened in November of 2020.
It all started when the Julin family from Degerfors, with their sons Gustav and Adam, moved home to Wermland five years ago. This after a few years in Stockholm and Linköping. Anders has worked in sales and was also marketing director with Degerfors Sports Club for a while. Malin is a trained social worker.

In Sweden's "Master Chef"
-We had never managed a restaurant before, but have always taken a great interest in food and I competed in Sweden's "Master Chef" 2013.
Anders and Malin wanted to create something completely unique.
– During a holiday in Skåne, we ended up at
Holy Smoke, which is a pioneer in Texas barbecue in Sweden. We were impressed by the food, the atmosphere, the community, the handiwork. So cool! There was no similar restaurant in Värmland and we wanted to take advantage of that.
The closest restaurants to bear any resemblance are located in Stockholm and Gothenburg.
– We got a lot of help from Johan, who owns Holy Smoke. I went there and learned the basics and in October of 2019, the whole family traveled to
Austin, Texas on a study visit. Johan gave us a schedule of barbecue joints we should visit and we had time for two, three a day for a week. We're talking about some of the best in the world!

Study visit to Texas
It was an unforgettable trip!
– We met a guy at " Franklin's" who had started queuing at five in the morning to be first in line when lunch opened at 12! Barbecue is a religion in Texas.
The barbecue owners generously shared their tips, recipes, cooking methods and much more. The customers also offered up lots of good advice.
– We were struck by the sense of community, the authentic food and timelessness. A completely unique culture and we wanted to take it with us to Karlstad.

Two large smokers
And so it came to be. In the beginning, Anders and Malin were content just serving lunches.
– It was good to grow at our own pace. Today we are open from lunch to evening and during the summer we will be open more days a week with longer opening hours.
Two large smoker grills burn, with red oak from the very south of Sweden, from six in the morning. In the summertime the large "garage doors" are opened, and the open-air restaurant is thus integrated with the indoor dining area.
– Guests who are very interested have actually gotten to "work" a little with us to see how it all works.
Plates with short ribs, baby black ribs, side orders and much, much more are served here. Julin´s also offers catering and take away. Hot as well as cold food.

NASA ceramics
– We have a concept that we call
Home Dinner. We prepare the meat, cool it down and vacuum seal it. We then send instructions to customers on how to reheat the meat.
The restaurant also has a shop with everything that barbecue fans need to set up their own party.
– We have products from some of the world's best brands. Among other things, kamado grills in ceramics from Big Green Egg, developed in collaboration with NASA. We have ten different types of coal, smoker chips, thermoses and coolers from YETI, who are huge in the USA. We have also developed our own product line with spices and sauces that we introduced to ICA last autumn. They are available for purchase from us as well. We also have promotional products such as caps and t-shirts.
But the Julins have not settled down.
– We have many new plans, such as various events and food trucks.
---
From Microsoft and Seattle to a kayak rental downtown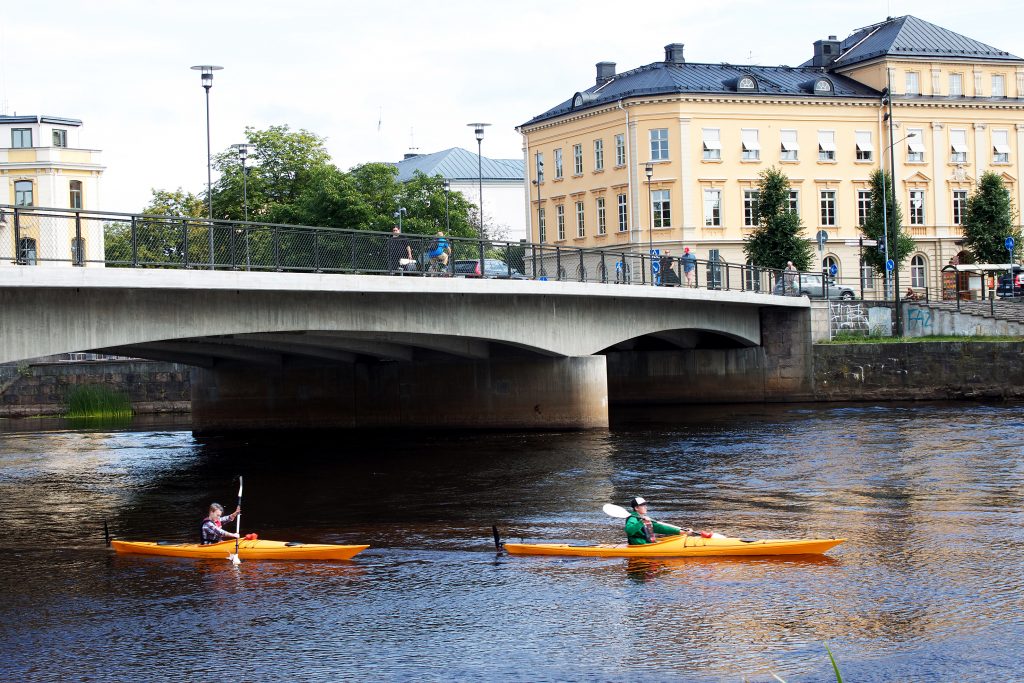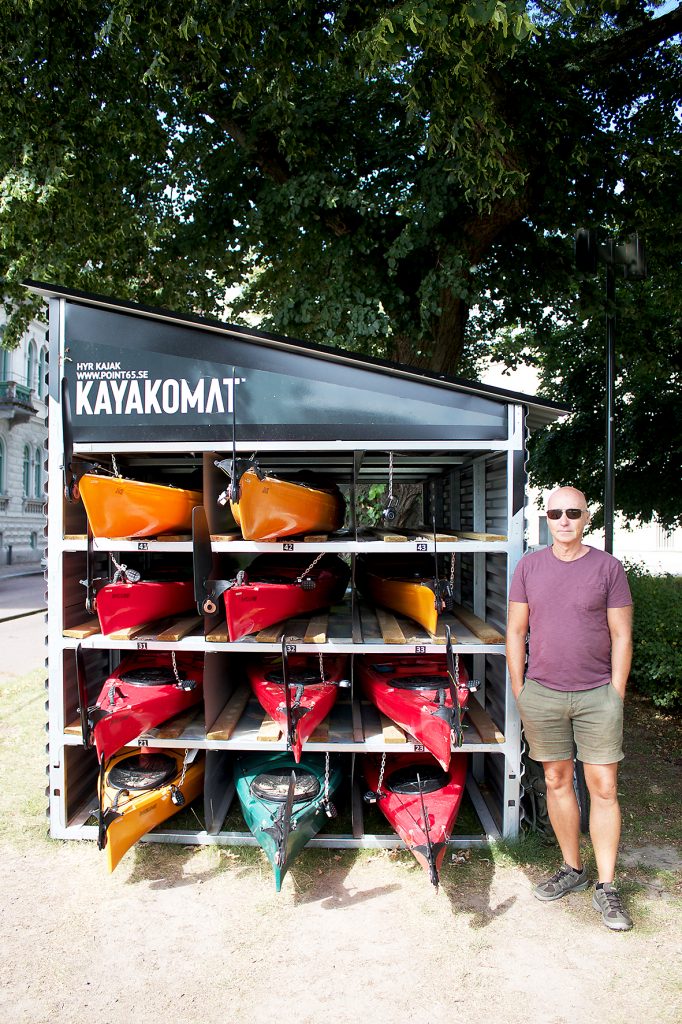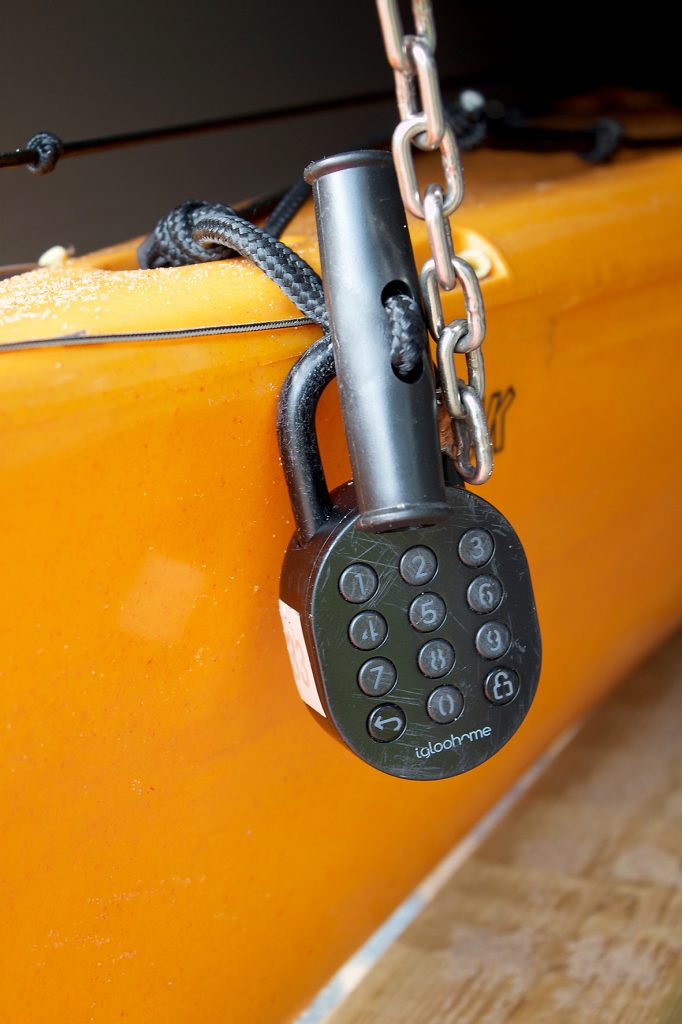 In the wintertime he does technologial translations after having worked at Microsoft's head office in Seattle. From May to the end of September his red and yellow kayaks light up Klarälven around Karlstad.

This summer I will celebrate my 10 year anniversary as a kayak rental, Jerry Olsson says.
The summer of 2021 set a new record.
It was a combination of weather, the location of my rental business and the pandemic that made a lot of people choose outdoor activities.

The first "kayajomat"
In the summer of 2021, Jerry opened his first "kayakomat", by the theater in Karlstad. The system lets the customer reserve and pay for an appointment in advance online and with a code they can later go to the kayakomat and collect their kayak at the chosen time.

I was also granted access to a place with a great central location, in the Mitt i City mall. That place is however not available this year so booking will take place online or via telephone instead.

The kayakomat holds 12 vessels, two of which are dubble-seated kayaks.

Offer classes
The less experienced customers are given advice on paddling tecniques, rudder- and pedal settings and suggestions for nice trips etc.
For the absolute beginners we offer a 3-hour class. After that they can start paddling out into the river. It's easy to step into them at the beach and these kayaks are very sturdy and easy to paddle. Nothing like racing kayaks. We also arrange a guided 3-hour trip every Tuesday, starting at 6 PM.

For those who wish to, it is also possible to rent a SUP-board. Jerry grew up in the village of Håvilsrud near the Norweigan border in western Värmland and it was in nearby Häljeboda he started his kayak rental business.

Five seasons ago, I moved the rental business into Karlstad. The first two years I didn't have a fixed location, just a trailer with rental kayaks. Then the business grew. Klarälven is perfect for kayaking.

Popular cityscape
The customers can choose to rent for four or two hours.

During the longer rental, you have time to paddle all around town. It is downstreams almost the whole way. Down past the hospital, via Inre Hamn (the Inner Harbour) and the locks in Pråmkanalen and then a short trip upstreams to Sandgrundsudden and then downstreams again back to the theater. Most days you don't even notice you are paddling upstreams.

In the summer, Jerry's colourful kayaks have become a well known and popular sight around Klarälven in central Karlstad.
I often hear from my out of town-customers: Why don't we have this opportunity at home?
During the winter, times is spent translating advanced technical manuals from English to Swedish. Between 1991 and 1992, Jerry worked at Microsoft's head office in Seattle. In 1990-1991 he worked for Microsoft in Dublin. There at the company he met his soon to be partner, irish-born Elizabeth McCarty. The couple now alternate between Jerry's childhood home in Håvilsrud and a cozy apartment at the mansion in Klara.
We only meant to touchdown at the mansion but we have lived here for 20 years now!

Apart from renting out kayaks, Jerry organizes the Häljeboda Race in the area where he grew up, on the first Saturday of August every year. It is a cross-country race meassuring 7, 3 kilometres.